Test Tube Titans
December Update - Defining Flow
---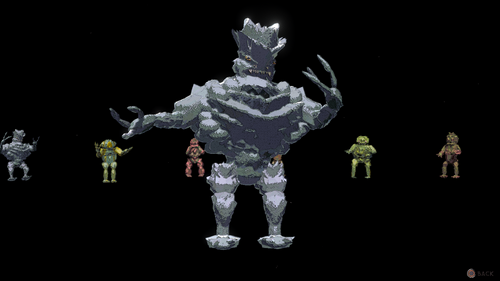 Another month, and things have really tightened up with this latest update. Among numerous fixes, the main campaign flow is much more solid now and feels like a proper game. I spent a lot of time working on adding new music, with a total 12 new tracks in the game. Caleb's SFX have been coming in too and the game is sounding better than ever. Here's a more detailed list of changes that went into the latest update:
- Feet should be less sticky now as they have an immediate upwards force applied to get them moving.
- Added a missile weapon used by some soldiers and helicopters.
- Several new missions to conclude act 4.
- Added a 'bypass' option on the mission map so funding can be used to skip stages if desired.
- Introduced a 'recharge time' for titans so that they can't be used on consecutive missions (although an upgrade allows players to reduce and eliminate this wait)
- Changed the storage slot system so titans can't be saved to multiple tubes. Auto-saves are now handled to avoid loss of titan data.
- Milestone rewards and lab upgrade costs increased to balance progression better.
- Lots of UI layout and flow improvements for more intuitive use.
- Explosions should do much less damage by default.
- Grabbing an object will cause that hand to raise up into the air for clearer behaviour.
My focus heading into the new year will be to continue to tune and balance the campaign. I need to add the final act of missions, as well as the entire story, which has been brewing in my head for months (and will also contain contributions from friends). I'm feeling good about having things ready for a proper release in the next couple months!